Our Insider's Guide to Round Top - Fall 2021
If you're headed to Round Top just for the day, or several days, we've got all the details you need. 
*This is not a sponsored post. Purely Cathy's opinion, just for you, no strings attached.   
WHEN: OCTOBER 15 - OCTOBER 30
All vendors set their own dates- most will be open by October 16, through October 30. Most folks are open around 9 am and close around 6 pm. We've compiled a list below of our favorite spots and their specific dates.

PRO TIP: IF YOUR SCHEDULE ALLOWS, GO ON A WEEKDAY!
It's fun to book your stay in advance and plan an overnight with girls - but you really can go up and back in a day from Houston, y'all! We do all the time. Just have fun! If you can, plan for a weekday to save yourself hours in traffic on those two lane roads. (But weekends are of course fun, too!)
PS You can find us on instagram @renovatehouston, we'll share our finds-and shenanigans-as we shop in the next few weeks. Happy antiquing, y'all! 
And come say hey when you're in Houston -our storefront is in the Memorial area - click here for directions.
WHERE TO GO
Another pro tip: you cannot see it all in one day. Southern Living published a great article in 2019 with TEN pages about how they spent THREE full days in RT! Cathy recommends making a plan in advance of where you want to go, schedule some time to just take it all in, and enjoy!
Here is a list of our favorite spots to shop, and we've included info like who has the best bathrooms, where to eat, and more. So keep on readin', y'all! We've got a lot of ground to cover! Antiques Weeks spans about 20 miles!
PRO TIP: TRY TO EAT EARLY OR LATE TO AVOID THE LINES- THIS IS TRUE OF ANY FOOD SPOT.
BLUE HILLS, OCTOBER 16 - 30
The new and improved Blue Hills is not to be missed! They have a large new barn featuring Leftovers Antiques and many vendors. Their bathrooms are clean and staffed, and free parking. This venue is run by a brother-sister team and they'll have late shopping October 25 til 9 pm - music and drinks, too.
1701 Hwy 237.  
ARBORS ANTIQUES, OCTOBER 16 - 30
It's not Round Top if you don't go to the Arbors! At least in our book! It would be easy to spend your whole day browsing here. You can find everything from true antiques and fine rugs to artwork and jewelry... we love Delamora Designs by Leslie Delamora - Tent C1 near another fave, Tutu + Lilli. Did you know Arbors has 100 vendors?! We mean it when we say it'd be easy to spend a whole day here. Arbors has free parking, great food and clean potties in the building in the back.  
PRO TIP: THE BUILDING IN THE BACK OF THE PROPERTY LOOKS LIKE IT MIGHT BE PRIVATE, BUT IT IS VERY MUCH OPEN TO YOU! There are clean air conditioned restrooms and a food vendor - grab a diet coke, lunch, and we love the breakfast tacos. 
1503 Hwy 237. One Mile North of Round Top Square and Six Miles South of Hwy 290
THE COMPOUND, OCTOBER 16 - 30
Put this one on your list! We have numerous favorite vendors here, including Old World Antieks, Nomad's Loom, ReWorks, H&H Walker Co. We use finds from The Compound throughout the year at clients' homes. The new Fickle Barn will be open year round, too. Great inspiration! There are usually several food vendors - and our favorite, Simply D'Lish out of Brenham, is set up here under the trees. Salads, sandwiches, iced tea, yum! 
Open 9:30 - 6:30 pm. Located off 237 just past Marburger Farm if coming from RT.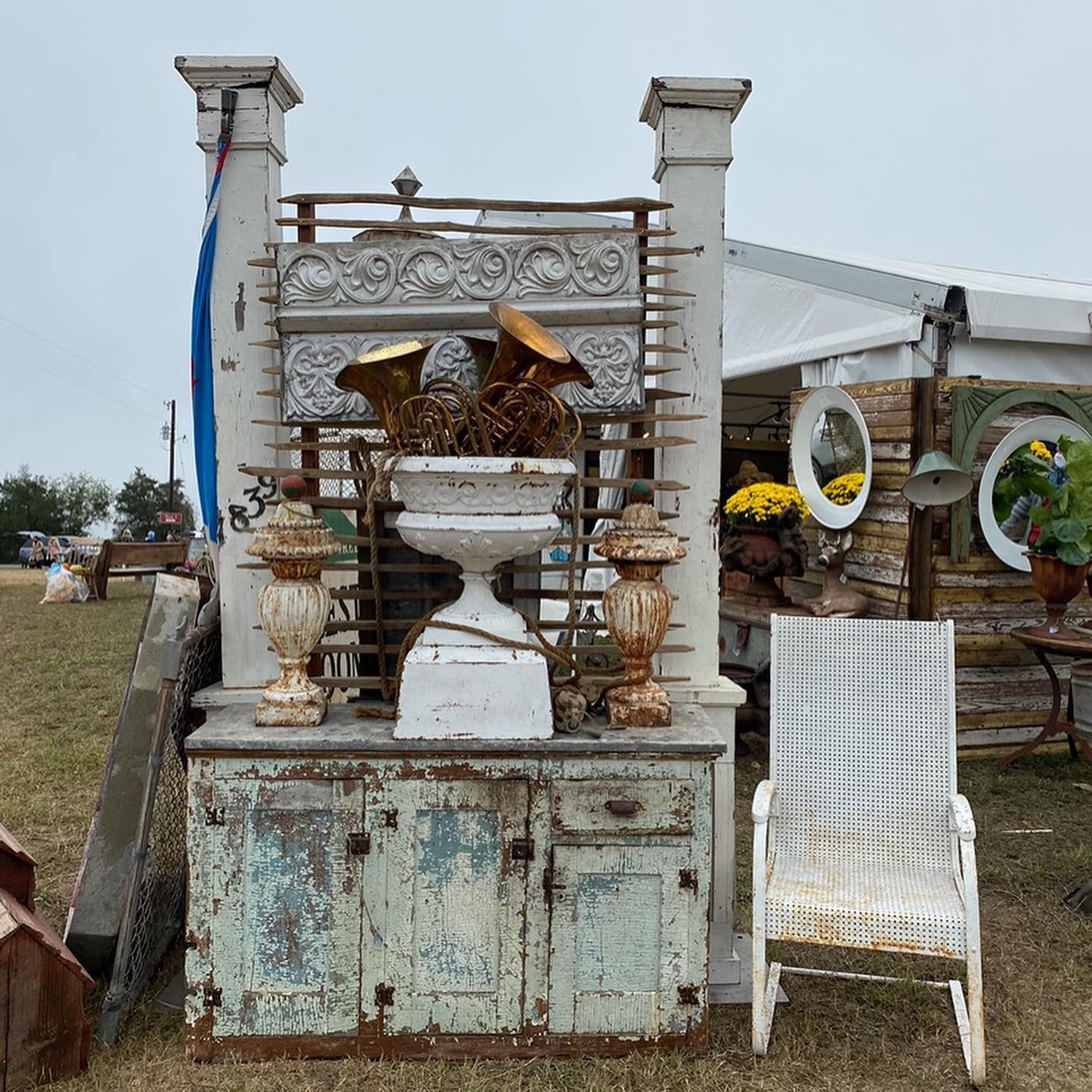 MARBURGER FARM, OCTOBER 26 - 30
Marburger is about inspiration almost as much as it is shopping - the vendors from all across the country are incredibly talented at styling unique vignettes year after year.
It's one of the largest shows and a "must" for many Houston ladies. Your ticket is good for the entire week - $25 for opening day Tuesday, October 26, or $10 any day after. *This year, they recommend getting tickets online - click here - but you can still get them at the gate. 
Don't miss: The Brown Shed, Perspective Design, and the Garden Co., to name a few. Marburger has numerous food options, too. Great lunch options here, but opening day Tuesday be prepared for long lines. 
PRO TIP: WE START ON THE WARRENTON SIDE OF THE VENUE, IT TENDS TO BE LESS CROWDED. THE TEXAS SIGN IS A GREAT GROUP PHOTO-OP SPOT.
WARRENTON, OCTOBER 15 - 30 
We love the fields of Warrenton, and rarely leave empty handed. Bring your walking shoes and wander. We've always done well at Robinson Field (maybe we're partial to the name) where parking is $5. And we ALWAYS hit the area near Zapp Hall - check the Round Top Antiques Guide for specific dates within the Warrenton area. We usually park in one spot and wander, and then drive back around to pick up our finds if needed. There are food vendors scattered everywhere - grab a lemonade and enjoy the hunt!
Location: On TX 237, about 4 miles from Round Top and 8 miles from La Grange.
Also in the Warrenton area: Bar W Field, and EX-CESS I & II, recently featured in Southern Living!

ROUND TOP VILLAGE, OCTOBER 14 - 30
*New venue! Near the Round Top Mercantile on 237 right off the road (the mercantile is a gas station/grocery store with very clean restrooms. And lots of Blue Bell but don't ask us how we know.)
Round Top Village is a new year-round destination open on weekends, but during the show they are open every day! Two of our favorites - Courtney Barton and Cottonseed Trading - are both located here and it's a must-stop on our list. New this year - "The Store" featuring Tutu and Lilli, Muse Collective, gifts, and more. 
NEW AND NOTEWORTHY: 
THE HALLES is a reborn event space with shopping as well as the very cute Champagne Shack where you can sit and grab a glass of bubbly. Also new, The Little Cheese Shop, on Henkel Square, co-owned by Melissa Ellis of Tutu and Lilli. Melissa, you're everywhere, and we love it! 


ROUND TOP ADC: recently opened Round Top Antiques and Design Center inside the Henkel Hall. Open year round, can't wait to check this one out! 
NOT TO BE MISSED:
The Porch is always on our list - we love their vignettes and we like their price points, too. Located next to Round Top royalty - Junk Gypsy. Leftovers has a store year-round in Brenham and we love their style and antiques, in addition to their location at Blue Hills. Townsend Provisions is next to The Garden Co in RT - Ryann and Nick have the great finds from tea towels and candles to much more. We never leave empty handed.
Our friend Lisa Walker with Sundries Mercantile will be set up in Fayetteville at "Antiques off the Square" from October 20 - 24. Lots of vendors and Fayetteville is a fun spot, too - just down 237 from Warrenton. You can avoid the 290 craze and take I-10 to Fayetteville and take 237 to the Roundtopolis.  We love Orsak's on the square too - their grilled chicken sandwich is delicious. 
ARE THOSE BOOTS MADE FOR WALKIN?
Don't forget: wear comfy shoes, and drink plenty of water. We hear stories of people fainting EVERY single year! With that in mind, here's a quick packing list: 
water bottle

comfortable shoes

Sunscreen, chap-stick, and a hat - the sun can be bright in those fields! 

Cash and/or checkbook (some vendors prefer over credit cards)

Reusable tote bags 

Fully charged cell phone, car charger for re-powering

Hand wipes

rain coat/ jacket - Texas weather is unpredictable!
We recommend an SUV with space for larger items. Don't be afraid to ask vendors their "best price" but don't be surprised or offended if some won't negotiate. Also, know that you're in the country, and cell service will be spotty. 
WHERE TO EAT (AND DRINK)
All that shopping can make a girl hungry - or hangry! Many vendors have food options on site, and there's lots of restaurants in surrounding towns we highly recommend. Y'all be sure to tell 'em Cathy sent ya!
If you're just there for the day, why not eat dinner in the Roundtopolis and skip Houston traffic? 
GREAT DINING OPTIONS ALL ACROSS THE AREA: 
Royers in Round Top will be packed during the show - call for a reservation or brave the wait. If the weather's nice there's plenty of sitting-room on their front porch. It's famous! Put it on your bucket list if you haven't been at least once. 

Royers Pie Haven - In our opinion, you just can't come to Round Top without at least one slice of Pie Haven's heavenly creations! Check their hours for antique week on their website. Finger-lickin' good sweet treats, they also have whole pies to take home, smoothies and great iced/hot coffee drinks from Two Sparrows Roasting Company. 

The Garden Co Cafe is a must in our opinion. Call for reservations. We love owners Stevie and Jeff - the food is as good as the inspiring decor! Even go just for a cocktail under the giant oak tree.

Lulus, owned by Armando's of Houston Tex-Mex fame, has Italian food in a beautiful setting. Call for reservations.

Popi Burger is Armando and Cinda's newest venue, offering delicious burgers and more. Highly recommend the Burger Bowl, yum! 

Teague's Tavern is on the square in RT and sure to please everyone in your group. Love the upstairs deck for outside seating. 

Orsak's on the square in Fayetteville is also tasty home-cookin. Love the grilled chicken sandwich. 

Prost in Round Top - cute wine bar in a historical building. Make a meal out of their charcuterie boards. 

Ellis Motel - not a motel, but awesome spot for adult beverages on the lawn. Next to Royer's Pie Haven on Henkel Square.

Food Trucks - scattered throughout Warrenton, also delicious bites at The Compound and Arbors

The Little Cheese Shop - mentioned above - new this year and sure to be delicious! 
Round Top Smoke House - Thursday through Sunday, 11 am til sold out, behind Henkel Hall. Lee Ellis has BBQ! 
WHERE TO STAY
If you can nab a spot at The Vintage Round Top, it is incredible! We also love The Round Top Inn and the Frenchie. Remember these for next year - it's not too early to book for Spring!
HOW TO GET IT HOME
Our go-to if you need a professional to haul your finds is Jarol Garcia - tell him Renovate sent ya! 832.798.9362. We've also been known to pile on our friends' lap in order to make room for goodies in our car! Dealers will often mark things as sold and hold it for you until the next day, or until you can schedule transportation.
HAPPY ANTIQUES WEEK, Y'ALL! 
We hope you enjoy the Show! Thanks for browsing our guide and sharing it with your friends! 
Much love, Cathy, Courtney and Team Renovate!
PS Come say hi in Houston - DIRECTIONS HERE. 
Pro tip: we're registered on google maps. Monday through Saturday, 10 am to 5 pm. We love local!